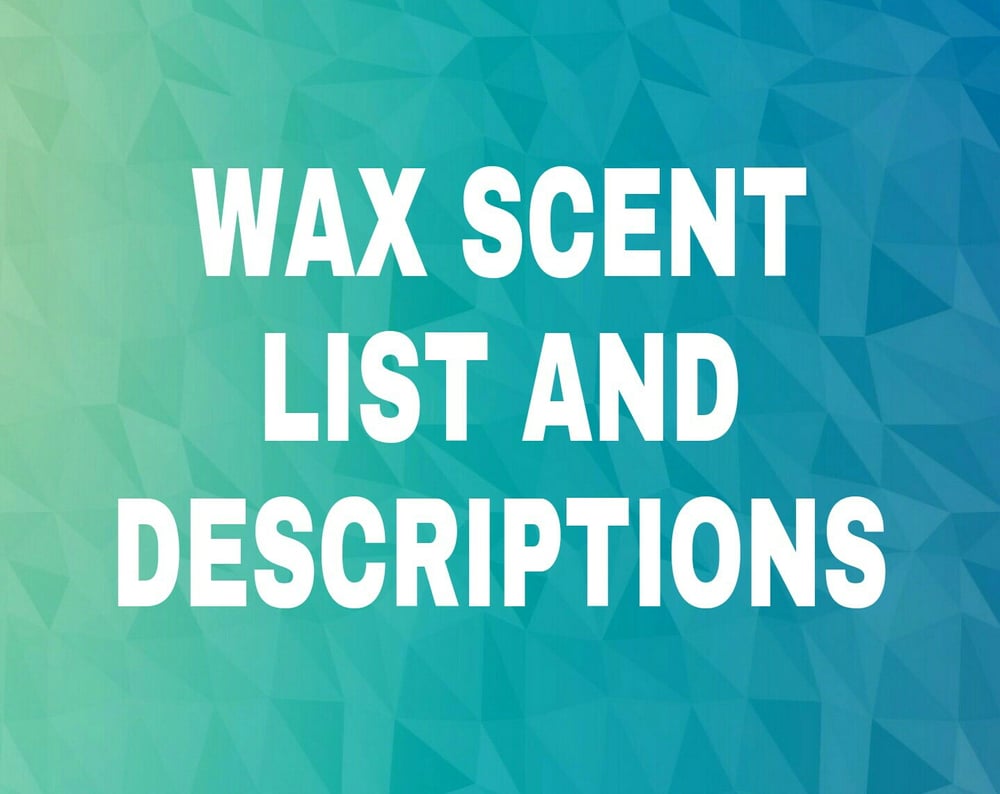 Wax Scent List
7-Up Pound Cake: a perfect blend of warm cake, almond, lemon, lime, vanilla, and sugar.
Almond Biscotti: A great scent, just like the dessert.
Almond Macaroon: Fresh orange sweetens the toasted almond character, as bakery tones of warm cookie and toasted nut add a yummy sensation. Vanilla bean sweetens the cookie tones, completing the gourmand treat.
Almond Rum Cake: a scrumptious bakery arrangement beginning with top notes of almond extract, chopped almonds, and dark rum; followed by middle notes of sugar cane, coconut milk, vanilla extract, and heavy cream; well-rounded with base notes of butter and cake batter.
Aloe and White Lilac: fresh, complex fragrance beginning with top notes of petitgrain, Italian bergamot, and ozonic notes; middle notes of lilac, lily of the valley, and hints of tuberose; base notes of sweet vanilla, amber, precious musk, and oakmoss.
Alpine Frost: A curious mixture of wood and zest. A hint of frosted flowers and fruit as first frost hits the alpine skyline.
Alyssum: freshly picked alyssum flowers. Alyssum flowers are some of the most romantic, fragrant flowers you will ever smell.
Amazing Grace: A unique blend of citrus, florals and spice, this fragrance is the essence of style. Under a veil of white musk, pink rose blends with sweet citrus and cinnamon stick. Compare to Amazing Grace® by Philosophy
Amish Harvest: A blend of dried fruit and spices make this wonderful homey fragrance.
Amish Quilt: Spicy, sweet, and complex. Vanilla intertwines with a spice cabinet of cinnamon, clove, allspice, kissed with sugar. Hints of nutmeg and fruits peek out from the heart notes.
Amish Spice Loaf: An Amish style spiced sour-dough/sweet bread with notes of milky butter cream, pastry, caramelized sugar, raisins, spicy cinnamon & clove, hints of black currant, and vanilla beans. It brings a pure source of comfort from an age-old recipe that is sheer bliss.
Angel Food Cake: Fresh and delectable just baked angel food cake with notes of sugar and vanilla.
Apple Cider Donut: This fragrance begins with an apple cider accord which blends with a fried donut character. The fragrance has a spicy cinnamon accord which rests on a sweet, sugary vanilla base with tonka bean and musk.
Apple Cinnamon: A rich combination of green apple, clove buds and red hot cinnamon creates a traditional, nostalgic scent loved by many.
Apple Ginger Crust: A delicious treat that lures in the senses as a blend of freshly chopped apples fall into a baked crust made of ginger and warm sugar.
Apple Streusel: This luscious gourmand treat begins with crisp red apples and a rich spice blend of cinnamon, ginger and clove. A yummy accord of brown sugar and buttery caramel balances with maple for richness, as sugared vanilla and a hint of musk finish the blend.
Apples and Clover: Apple and clover combines the vibrant green floral notes of fresh clover with crisp clean apple resulting in a complex fragrance that is both earthy and invigorating.
April Fresh: Exceptionally soft, fresh, and static-free. This fragrance will make you think you just washed your sheets every day of the week!
Asian Sandalwood: This rich woody bouquet is sweetened with orange and laced with jasmine for warm texture. Sheer woods and western cedar accent the base of sandalwood as lingering tones of vanilla bean and golden amber add sensual sweetness.
Aspen Winter: This fragrance oil by Natures Garden is the aroma of crisp citrus notes intertwining with an abundance of warm winter spices of clove and cinnamon, sitting on a dry down of sweet vanilla.
Baby Grace: A soft and caring blend of lemon, jasmine, vanilla and lily. Compare to Baby® by Philosophy
Baby's Breath: This delicate fragrance has notes of grapefruit, bergamot, tea leaf, jasmine, peach, lily, musk, amber, and Copaiba Balsam.
Badedas: A bracing blend of "clean" from European spas. Badedas is a classic blend reserved for body washes in the spas of Germany, France, and Belgium. This scent is an upscale blend of fresh, invigorating leafy greens & florals, basil, citrus, amber, and musk. A brilliant, invigorating, and sparkling scent that will make you feel romantic throughout the evening.
Baja Cactus Blossom: Refreshing blend of fresh flowers and light coconut with a soothing musk and sandalwood base. Inspired by the BBW® scent.
Banana Crepes: Ripe banana, coconut milk, apple peel, bergamot, cinnamon stick, clove, combined with crepe batter and topped with creamy vanilla and sugar crystals make this a unique must try.
Banana Nut Bread: Fresh baked classic with cooked bananas and nuts.
Banana Split: Creamy vanilla ice cream is blended with fruity banana notes and topped with cherry accents in this gourmand favorite.
Bartlett Pear: Luscious freshly sliced pear with a very light hint of peach and green apple.
Basil, Sage, Mint: An exhilarating blend of cool mint, refreshing basil and earthy sage enhanced with a sparkle of citrus and underscored with white musk and woods.
Bayberry: a nice blend of fir and balsam and delicate spicy undertones of nutmeg and ginger.
Bayside Marina: Crisp and breezy like a day at the beach with fresh sea air, agave nectar and rich floral notes of ylang ylang and wild hydrangea with lavender, vetiver and willow bark.
Beachwood Vetiver: Close your eyes and breathe in the exotic salty sea air with its notes of dried coconut, eucalyptus, night blooming jasmine, carnation, and vetiver followed by sun dried driftwood and the tanginess of seaweed. It's like being back on vacation without a care in the world.
Bedtime Bath: A wonderful babyish (best way to describe it) fragrance enriched with lavender, chamomile and other natural herbs - known for their relaxing and soothing properties.
Bergamot Grapefruit: Fresh, clean, crisp bergamot intertwine with clean, citrusy grapefruit notes to blend harmoniously with refreshing tropical nuances to unite and enhance this fragrant accord.
Berry Buttercream Puffs: A fabulous fruity buttercream wrapped in a light pastry puff! Fresh, ripe berries blended with whipped buttercream, sweetened with hints of maple sugar. Add even more sweetness with some strawberries and mulberries, a splash of maple sugar.
Birthday Cake: A great cake scent with a undertone of vanilla.
Bite Me: A blast of cherry effervescence! Fresh citrus notes sparkling with bubbly highlights lead to a luscious blend of cherry and berry in this playful scent.
Black Coconut: Sunset in paradise....rich coconut, star anise, cedarwood and island blossoms promise an evening of luxurious tranquility.
Black Ice (Type): Masculine fragrance with fresh bergamot topnotes, wild lavender and subtle florals are followed by sandalwood and soothing musk. Inspired by the famous little tree air freshener scent.
Black Raspberry Vanilla: A luscious blend of raspberries, strawberries, coconut lemon, peach and vanilla.
Black Tea: Clean, crisp orange notes are followed with subtle hints of jasmine, lavender, and light rose. A base consisting of musk and woody nuances complete this blend.
Blackberry Bling Bling: juicy blackberries and bright citrus perfectly blended with fresh herbs to create this spicy and sparkling combination.
Blackberry Jam: Sweet Blackberries and sugar come together to make a mouthwatering jam. Just add biscuits.
Blackberry Jam Butter Cookies: Fresh butter cookies covered in blackberry jam.
Blonde Moment: An incredible iced champagne mixed with rich sweet raspberry and cranberry.
Blood Orange and Goji Berries: An exotic tropical delight! The tart scent of juicy goji berry blended with deep blood orange. A perfect marriage of fruit and citrus!
Blue Cotton Candy: A yummy, melt in your mouth spun sugar candy laced with super sweet sugary grape, strawberry, and sugary caramelized vanilla and berry base notes.
Blue Hawaiian: mouth-watering top notes of juicy orange, lemon, and maraschino cherries; followed by tangy pineapple, acai berry, and sea spray; well rounded with base notes of sweet coconut, vanilla rum, and fresh ozonic notes.
Blueberry Apple Pie: The aroma of freshly picked blueberries, fresh cut granny smith apples, smothered in butter, cream, and cinnamon, with a background of fresh baked crust.
Blueberry Cobbler: A luscious buttery bakery accord leads to the blend of wild blueberry and brown sugar at the heart of this fragrance. Sweet vanilla bean and warm spiced cinnamon create gourmand appeal for the fruit dessert.
Blueberry Muffin: the aroma of a freshly baked blueberry muffin. Top notes of juicy tart blueberries with orange zests, middle notes of butter cake, and base notes of vanilla and almond.
Blueberry Vanilla: Sweet blueberries mixed with rich vanilla make this scrumptious smelling scent.
Blushing Peaches: Strawberry, Peach and Vanilla make this a must try.
Bonfire Bliss: A fragrance reminiscent of gentle, dusky breezes and bonfires, with notes of dried, wind-blown leaves, heliotrope, charred woods of pine and cedar, amber, smoky sandalwood, and musk with a background containing hints of roasted marshmallows, brown sugar, coconut and soft vanilla. This is a fascinating, complex, unique and appealing scent.
Breezy Meadows: All things wonderfully spring are in this bottle! Smell the scents of fields of wildflowers and freshly mowed grass.
Bubblegum: Remember that bright pink bubble gum from childhood - the one with the sweet, tempting smell?
Butter Brickle: This extremely buttery and creamy smelling fragrance oil has strong base notes of vanilla, with hints of almond.
Buttercream: A sweet rich, buttery vanilla that will make you want to eat the icing right off the cake.
Cactus and Sea Salt: Green, watery cactus accords mingle with fresh, ozonic sea salt in this unique, clean fragrance combination.
Cannoli: A cannoli pastry shell filled with a scrumptious filling of rich vanilla cream, sweet vanilla cupcake batter, sugar, powdered sugar and hints of chocolate chips.
Captain Crunch Berries: A yummy smelling blend of strawberry, grape, buttercream, fresh bakery notes and wild berries. Background notes of powdery raspberry, vanilla sugar, plum, tonka bean and warm maple go into this complex scent.
Caramel Pumpkin Swirl (type): This fragrance is a cohesively warm and inviting scent. Sweet, smooth caramel swirls and fresh pumpkin notes intertwine with prominent spice notes. Warm cinnamon and brown sugar blend harmoniously to unite and enhance this fragrance accord. Inspired by the BBW® scent.
Caribbean Escape: An island breeze of fresh pineapple, casaba melon and creamy coconut.
Caribbean Salsa: This tropical blend of citrus, mango and papaya is enhanced with fresh green notes and sweet musk for a lush, exotic scent reminiscent of the Caribbean.
Cashmere Cedar: Sweet top notes sprinkle over a bed of petals and finish with a smooth, woody base.
Cedar Sage Blackberry: a beautiful, calming, herbaceous blend of fresh sage, woody cedar and sweet, dark blackberry.
Celestial Waters: This is not an oceanic scent but more of a sweet mountain spring scent. Imagine a hike on the banks of a babbling brook through the Appalachians, with the sweet clean scent of hemlock, magnolia, and honeysuckle lingering in the air.
Cherry Almond: A perfect blend of ripe cherries and toasted almonds.
Cherry Crumb Pie: a combination of sweet black cherries and sour cherries with a base note of a freshly baked southern flake crust.
Cherry Pineapple: The amazing smell of fresh cut pineapples perfectly blended with tart cherries.
Cherry Pomegranate: a luscious blend of cherries and sweet pomegranate.
Cherry Slush: A delicious red cherry scent!
Chocolate Brownies: Fresh baked chocolate brownies
Christmas Bliss: All the holiday flowers and the softest whisper of spices, with bottom notes of balsam and pine. This is such a gorgeous, complex blend of greenery and flower essences.
Cider Lane: A welcoming aroma of hot cider spiced with cinnamon, cloves and nutmeg.
Cinnaberries: Juicy orange and tangy fruit accent the warm spiced berry signature of this scent. Clove and cinnamon blend with sugared raspberry for holiday appeal as hints of vanilla create lingering sweetness.
Cinnamon and Spruce: A classic blend of pines and spice opening with notes of stately Northern pine, Douglas fir, and Blue Spruce complemented with notes of spicy cinnamon & clove, rosemary and woody cedar. Cinnamon & Spruce fragrance oil is not only a holiday classic, but a year 'round staple for a balanced blend of nature and spice without being too harsh or too sweet.
Cinnamon Buns: spicy cinnamon accord with warm nutty undertones along with the aroma of fresh baked bread.
Cinnamon Caramel Swirl: A sinful, decadent delight! Freshly ground cinnamon enhances soft and silky vanilla. Add rich creamy caramel and you have a treat that screams YUM! Creamy Caramel, Cinnamon and Sweet Vanilla.
Cinnamon Cream: Dark maple syrup, toasted coconut, melted butter, warm star anise and crushed clove compliment the freshly ground cinnamon, whipped milk, rich tonka bean and malted sugar.
Cinnamon Glazed Baklava: A flaky, cinnamon glazed traditional baklava with top notes of freshly grated cinnamon, nutmeg, and clove followed by notes of a nutty, flaky crust, caramelized sugar, buttery vanilla, and sweet honey.
Cinnamon Sugared Doughnut: Sugar sprinkles add a twinkle of sweetness to this warm confection. A fresh doughnut bakery accord is blended with warm cinnamon and enriched with maple for yummy goodness. Vanilla musk adds another layer of sweetness to create longing.
Cinnamon Toast: Hints of toast with lots of cinnamon sugar sprinkled on top.
Citrus Odor Eliminator: A refreshing blend of lemon, orange and bright grapefruit combines with an odor eliminating agent to create a clean fragrance that is sparkling.
Clean Cotton: A crisp linen top note leads to an innocent bouquet of fresh lavender, blooming jasmine, rose petal and white lily in this fantasy scent. Sunny warmth is created with sandalwood and musk, as hints of vanilla finish the blend.
Clementine Lavender: A calming and balancing scent that is clean and pure. Herbal French Lavender mingles with fruity notes of sweet clementine and hints of tangerine. The scent is rounded out and balanced by a bed of aromatic bergamot and Italian lemon bottom notes.
Clothesline: Tangy Lemon, Mandarin Orange, Mountain Air, Cotton Blossoms, Sheer Violet, Sweet Cyclamen, Dew Kisses Lilies, Pink Jasmine, Soothing Sandalwood.
Cocoa Butter Cashmere: A cozy fragrance perfectly balanced between sweet, woodsy and warm. Opening notes of light spices and cedarwood are followed by rich vanilla tonka, warm coconut and jasmine petals. Olive wood, sandalwood, amber, musk and a touch of cocoa butter round out this sophisticated scent.
Coconut Bliss: Rich and creamy coconut is blended with tropical banana and an indulgent butter and vanilla mix for the ultimate beach lotion scent.
Coconut Cream Pie: A buttery sweet blend reminiscent of a coconut custard pie.
Coconut Lime Breeze: Fresh lime and crisp citrus leads to a tropical floral accord which texturizes the heart of this fragrance. A base of grated coconut and sweet vanilla blends with sugared musk to complete the exotic sensation. Top - lime, citrus, fresh Middle - tropical floral, sheer wood Bottom - coconut, sugared musk, vanilla
Coconut Milk and Lavender: A beautiful and enticing blend of lavender with silky French vanilla infused with rich coconut milk and hints of musk.
Copper Coconut: Fruity accents add shimmer to this summer blend of creamed coconut and sea salt. Layers of musk and sugared vanilla blend with amber for lingering sweetness.
Coppertone Type: A light floral blended with jasmine, lilac, lavender and sweet rose make up the base for this fabulous tanning lotion!
Cornbread Muffins: You won't be able to resist the down home southern bakery goodness of this fresh, sweet cornbread! Super rich and strong. You will honestly think you have hot buttery muffins in your house!
Cottage Breeze: Like a day by the shore with the refreshing scent of cool salt air blowing across the dunes.
Cotton Amber: Light and airy cotton is enhanced with the richness of amber mingled with floral and woody notes. An earthy, exotic twist on the fresh familiarity of clean cotton.
Cotton and Blossoms: a sweet and subtle blend of jasmine, violet and gardenia, with a sparkle of lemon zests on a dry down of vanilla.
Cotton Candy: A true cotton candy aroma
Cotton Candy Frosting: Rich creamy frosting flavored with a STRONG base of sugary sweet cotton candy confection! Strawberry, Raspberry, Plum, sugary crystals and sweet vanilla.
Country Christmas: This is a FABULOUS blend of wilderness pine and fresh cranberry. It fills the air with the rich scent of a fresh cut Christmas tree surrounded with garlands of fresh cranberries. Other subtle notes give it the nostalgic smell of a country Christmas!
Country Garden: top notes of fresh green clover, and ivy with middle notes of romantic snapdragon, rose petals, and carnations; ending with base notes of white musk and fig leaves.
Country Lemonade 2.0: Pucker up to sparkling splashes of this citrus delight with luscious accords of juicy lemon, tangy citron zest, and sweet clementine! (This is from another supplier than the original country lemonade, but still just as delicious!)
Cracklin Birch: begins with top notes of bergamot, orange, and lemon; with middle notes of geranium, lily, and rose; and base notes of patchouli, vetiver, and tonka beans. This fragrance is a very well-rounded fragrance!
Cranberry: An excellent tart cranberry.
Cranberry Cobbler: A sweet aroma of rich red cranberries with baked sugar and lightly baked cobbler.
Cranberry Joy: A very strong fruit fragrance of fresh Cranberries. A Body Shop Type Fragrance.
Cranberry Salsa: Notes of crushed juicy cranberries mixed with grapes, lemon, pink grapefruit, strawberries, and pomegranate with nuances of apple blossoms and heliotrope. This scent is more complex than a cranberry sauce or cranberry marmalade.
Cream Cheese Frosting: This fragrance relies heavily on Madagascar Vanilla notes and other sugar loving notes in this fragrance like freshly churned butter, buttercream, cream cheese and an intriguing finish note of butterscotch for a warm and smooth after-note.
Crème Brulee: A buttery creamy bouquet with a rich vanilla background.
Crimson Berry: Top: Blueberry, Raspberry, Clementine
Mid: Loganberry, Cassis, Violet Leaves
Dry: Vanilla, Crystal Sugar
Cucumber Cantaloupe: An aromatic blend of ripe cantaloupe, with base notes of juicy cucumber and fresh green notes.
Cupcakes at Tiffany's: Totally scrumptious! Sweet buttery notes with hints of toffee, tiny hints of chocolate with loads of sweet and slightly fruity buttercream notes in a creamy, fluffy vanilla cake bottom notes. YUM! This is to die for!
Cypress and Berries: A unique blend of rich pine notes infused with sandalwood, musk, warm cedarwood and wild berries. Hints of rose, jasmine and wild violets combine with fresh citrus to create this holiday aroma.
Diamonds and Pearls: Fresh and refined. A wonderful perfumy/floral fragrance
Drakkar: A great men's musky cologne fragrance. (Midsummer's Night)
Dreamcatcher: One of the most beautiful, unique scents in the world! A soft, powdery floral with undertones of designer perfume. A one-of-a-kind fragrance.
Eucalyptus Spearmint: Eucalyptus Oil clears the mind while Spearmint Oil uplifts.
Fizzy Pop: Fresh sparkling water with hints of eucalyptus and orange flower
Flirty Mermaid: A totally yummy, scrumptious combination of berries and citrus with sugary sweetness and hints of vanilla in the bottom notes. Refreshing!
Flowering Dogwood: sweet floral blend of dogwood blossoms, violets, jasmine, and plumeria with an undertone of soft musk and sandalwood.
French Baguette: Celebrate a traditional Parisian treasure with the delicious fragrance of a crisp, golden, fresh-baked baguette! This fragrance smells of warm bread baking, with the scent of melting butter over a crunchy crust.
Fresh Bamboo: A medley of lush green bamboo notes balances with a hint of spice and a shimmering tropical floral accord to create this fresh summer scent. A base of orange blossoms surrounds a clear musk accord to support the botanical sensation. Inspired by Slatkin Fresh Bamboo fragrance.
Fresh Cut Grass: A fresh bouquet reminiscent of a luscious green lawn that has just been mowed.
Fresh Lemon Sugar: A bright effervescent fragrance that combines zesty citrus and fruity florals with sensual undertones. You'll find notes of tart lemon, pettigrain, sugar cane, grapefruit, lychee flower and soft neroli. Fresh, zesty, enlightening and sparkling. Compare to Fresh brand.
Frozen Margarita: A classic poolside drink, having a pronounced citrus top-note of lime, orange peel, grapefruit and a twist of lemon, followed by a subtle orange blossom nuance, and a green mint leaf, and woody-spicy base-note.
Fruit Loops: begins with top notes of lemon rinds, lime, and grapefruit; middle notes of lemongrass, lily, and verbena; and base notes of vanilla sugar.
Fruit Slices: A fresh fruit salad with citrus and ripe berries.
Fruity Pebbles: Fruity rice cereal bits coated in sugar make up this wonderfully addictive fragrance.
Funnel Cake: This yummy scent is a combination of fried dough sprinkled with sugar, cinnamon and the delicious taste of nostalgia.
Gain Island Fresh: Smell just like the classic detergent.
Garden Lilac: A sweet floral combination consisting of rose, lily of the valley, wild jasmine, and sweet lilac flowers.
Georgia Peach: Fresh orange sweetens this recreation of juicy, ripe peach. Green accents elevate the natural fruit sensation while lingering undertones of vanilla and musk add a velvety background for the fruit accord.
Gimme All The Candy: Super fun concoction with blends of fruits, spun sugar, hints of caramel with bottom notes of super sweet vanilla.
Ginger Ale: This fragrance is all sparkly with top notes of Lime and Lemon, followed by a heart of Ginger, generic fruit notes and a dry down of Musk. Ginger Ale smells just like a really citrus ginger ale. It's fresh, it's happy, and hip.
Ginger Lime: a bright and zesty lemon-lime blend combined with the warm and comforting notes of honeyed ginger for a sophisticated twist on a refreshingly clean combination.
Ginger Souffle: one of the most beautiful scents we've ever experienced - it brings you back to the purest source of comfort. Fresh ground ginger root with gentle spices of nutmeg & clove buds, hints of black currant, light nuances of apple & peach, balanced on a background of sweet musky vanilla. This is sheer bliss!
Gingerbread: Fresh baked bread with spice notes of cinnamon, clove, ginger, nutmeg and vanilla beans.
Glazed Cinnamon Donut: A home-style blend of spices and warm bread with top-notes of spicy clove, nutmeg and ginger, a milky-sweet, buttery middle-note and a caramelized sugar-maple base-note.
Grape: A sweet and tart grape scent.
Grape Blow Pop: A classic grape candy scent with a hint of vanilla.
Grapefruit: A true grapefruit scent! Great for blending.
Grapefruit Bellini: This sparkling, fruity fragrance is a bright, happy scent. Top notes of Pineapple, Jasmine and Grapefruit are enlivened by Peach Nectar and Mango then finished off with Rhubarb and Sugared Musk.
Gummy Bears: Just open up a bag and take a deep breath! Will take you back to your childhood.
Hello Beautiful: This shimmering white floral bouquet is a showered with dewdrops that add freshness. Hints of cassis brighten with fruity tones that blend with fresh greens and warm woods, unfolding to reveal creamed musk and golden amber.
Honeydew: A green yet sweet fruit with hints of peaches, apples and strawberries on alight musky background.
Honeysuckle Jasmine: Green foliage blends with sweet jasmine as it intertwines with blooming honeysuckle in this garden blend. Musk and sandalwood create sunny warmth for the bouquet.
Huckleberry Harvest: a bouquet reminiscent of blueberry with raspberry, grape, strawberry and peach top notes with a sweet background.
Hummingbird: begins with top notes of tart kiwi, middle notes of lilac and tiger lily, with fresh based notes of pineapples and pears.
Ice Capade: top notes of lemon, peppermint, and spearmint; a warm middle note of buttercream; and base notes of vanilla and menthol.
Ice Cream Parlor: Decadent buttery tones and rich sweet cream are blended with the ultimate sweetness of vanilla to create longing with this retro fragrance.
Iced Cinnamon Rolls: the wonderful aroma of fresh baked cinnamon rolls with buttery icing.
Island Spa: A revitalizing escape… the sunny citrus aroma of crisp juicy mandarins and vibrant lemon verbena.
Jammin Rock Candy: an explosive blend of the sweet jammin' berry trio of juicy ripe cherries, strawberries, and raspberries harmonized with hints of tangy citrus brought together by icy peppermint and sugary hard rock candy.
Japanese Cherry Blossom: Japanese Cherry Blossom, Mimosa Petals, Sandalwood (BBW dupe)
Jelly Bean: Sweet jelly beans with hints of cherry, strawberry and lemon.
Kettle Corn: Sweet and salty a favorite treat at fairs! Super strong! Call it Popcorn Garland for the holidays! Popcorn Kernel, Granulated Sugar, Sweet Vanilla, Brown Sugar, Caramel, Yellow Popcorn, Vanilla Musk and a hint of Seasoning Salt.
Kimono Flower: This scent begins with mandarin and bergamot blended with soft jasmine petals and juicy raspberry; the heart is ylang ylang, sweet gardenia, and pink orchid; the base is rounded out with nuances of white moss, creamy amber, and vetiver.
Kumquat: Sweet neroli blossoms mixed with bitter orange zests enhanced by pineapple and raspberries with hints of gardenia.
Lavender Chamomile: Totally different than any other Lavender Chamomile. Fresh lavender, soothing chamomile make up a super aromatherapy blend! You will love this soothing, relaxing scent made up of California lemon, soothing chamomile, lavender, camellia leaf, rose petals, soft cedar wood, musk.
Lavender Lemon: Sweet orange and tangy lemon peel add a bright twist to this beautiful floral creation. Fresh cut lavender is blended with hints of green for natural appeal while a base of orange flower and vanilla adds lingering sweetness.
Lavender Mint: a fabulously, well-balanced herbal blend of earthy lavender flowers and fresh peppermint and spearmint sprigs.
Lavender Vanilla: A combination of soft lavender and creamy vanilla.
Lavender Vetiver: An aromatic blend of herbaceous lavender and brilliant lemon pulp.
Leaves (BBW Type): Like an afternoon spent playing in a pile of freshly fallen leaves, this fragrance embodies all the richness of the season and features a medley of ripe delicious apples, red berries and golden nectar. Delicious apples, red berries, Florida orange, cinnamon, clove, golden nectar, falling leaves, white musk
Lemon Curd: combines fresh, zesty lemons, warm vanilla extract and a hint of sugar blended with fresh cream. It's a refreshing and mouthwatering blend of tart and creaminess.
Lemon Lime Soda: Just like the soda ! Citrusy lemon and lime. Effervescent. It's like you can actually feel the fizzy bubbles when you smell it !
Lemon Pound Cake: Decadent buttery pound cake laced with fresh grated lemon zest and drizzled with sugary icing. Just yummy!
Lemon Sugar Cookies: An addictive blend of tart lemon baked to perfection and drizzled with the sugary sweetness of creamy vanilla frosting.
Lemon Verbena: tangy yet smooth, with no fuel or furniture polish notes. Very clean & fresh!
Lemongrass: Ozonic, airy lemongrass combines with citrus oils and juicy fresh accords. A bright and fresh herbal delight.
Lime, Basil, Mandarin: An intricate blend of Italian mandarin accented with juicy lime and herbaceous earthy basil accords. Inspired by the Jo Malone scent.
Love Spell: Sweet bouquet of mandarin, bergamot & orange enhanced by hints of peach & berries on an undertone of musk.
Luna (type): The sweet, delicate white floral notes intertwine with fragrant jasmine, the precious scent of sweet pea and peppery freesia notes. Golden amber, tart berries and the incense tonality of desert sandalwood blend together to enhance and complete this fragrant accord.
Macintosh Apple: juicy, crisp fragrance of freshly cut macintosh apples straight from the orchard.
Mahogany Coconut (Type): A unique blend of rare mahogany layered with coconut, sandalwood, vanilla and oakmoss. Inspired by the BBW® scent.
Majestic Seas: A refreshing wave of soft petals, watery nuances and earthy tones is reminiscent of the majesty of the deep blue sea.
Mandarin Cranberry: A zesty scent that blends mandarins and golden oranges into a fruit medley of juicy cranberries and plums.
Mango Papaya: A tropical delight fragrance oil by Natures Garden! You will fall in love with this fruity blend of ripened mango and juicy papaya.
Maple Pancakes: Nothing beats Grandma's old fashion pancakes and maple syrup.
Marshmallow Bomb: Big fluffy marshmallows blended with luscious creamy cake batter. Ooey, gooey, sweet, yummy, lip smacking, decadent, with a big, fat, delicious scent throw!
Mermaid Kisses: begins with top notes of ocean mist, sea moss, and dewy cyclamen petals; followed by middle notes of geranium flower, water mint, and coriander seed; sitting on base notes of white cedarwood and earthy vetiver.
Mexican Fried Ice Cream: rich buttery whipped cream that tops this yummy accord of vanilla bean. Hints of toasted nut and grated cinnamon tease the senses as a base of melted marshmallow carries the fragrance to a sweet finish.
Monkey Bread: Luscious buttery notes and a rich brown sugar accord combine to create an irresistible caramel accent for this bakery treat. Cinnamon warms the aromatic heart of baked cake, as lingering base notes of creamed vanilla complete the gourmand sensation.
Monkey Farts: A juicy fruit medley of peach, strawberry, pineapple, banana, coconut and orange blended with creamy vanilla and an exotic musk.
Moroccan Mint: This is a scrumptious blend of Spearmint, Peppermint and Corn Mint, with just a touch of black tea sprinkled in to provide a stable, full bottom note. It's cool, crisp, and refreshing!
Nectarine and Mint: shimmering citrus blend of lemon and orange which is cooled with a hint of mint as this fruity blend begins its enchantment. Fresh juicy nectarine gets natural accents of leafy greens for the fragrance signature. Woody undertones support the fruit sensation with deep richness as a base of musk finishes the fresh blend.
North Pole: Sweet peppermint sticks with a creamy, rich vanilla foundation. Inspired by the Yankee® scent.
Nutty Goodness: A nutty blend of walnuts & pecans enhanced with butter & French vanilla.
Oatmeal Milk and Honey: A fantasy blend with wheat notes, honey, vanilla and musk.
Old Town Bakery Shop: Let your senses take a trip back in time to experience the warm, inviting aromas of an old-fashioned bakery. Top notes of buttery vanilla combine with the irresistible scents of fresh dough and gooey batter, with hints of sugared almonds to complete this heavenly fragrance.
Olive Branch: This musky floral opens with citrus highlights of fresh lemon and sweet orange. Green herbaceous tones mingle with a fresh fantasy floral accord at the heart of the fragrance. Warm earthy accents add texture. The base is a complex of rich musk sweetened with a hint of vanilla. Inspired by the Lush® scent.
Orange Chiffon Cake: decadent blend of warm, buttery vanilla pound cake topped with a creamy, sweet orange meringue sprinkled with orange zest and toasted hazelnut.
Orange Cream Vanilla: Juicy orange blended with vanilla bean and sugar.
Paradise Garden: Lush tropical green tones create a fresh accent for this fruity floral blend. Blooming hibiscus intertwines with tropical fruit for the fragrance signature, as cool watery elements elevate the senses. A sparkling musk base creates lingering clean undertones.
Peach Bellini: Orange slices glisten with sparkling rays of translucent white peach nectar and bubbly champagne.
Pear Spice: Just picked, juicy pear and leafy greens dusted with sugared cinnamon spices.
Peppermint: a very crisp, clean, true peppermint scent.
Pie Crust: Better than plain vanilla or sugar cookie, this exquisite, yummy bakery creation is like no other. Pure bakery heaven. Perfect as a stand alone scent or great as a blender.
Pina Colada: A tropical blend of juicy pineapples and coconut mixed together with a delightful sweet vanilla milk and rum blend.
Pineapple Mango: Top notes --- Aldehydic, Citrusy Fruity green Pineapple
Middle Notes – Rose, Lily of the Valley and Jasmine
Bottom Notes – long lasting Musky n Sweet Cotton Candy
Pineapple Paradise: The tropical fresh scent of sweet pineapples with light vanilla notes.
Pineapple Upside Down Cake: Sweet pineapples, vanilla flavored cake with hints of butter and brown sugar.
Pink Frosted Cake: yellow cake layered with sweet Strawberry Frosting to make delicious Pink Frosted Cake.
Pink Sugar: A beautiful and enticing medley of sweet cotton candy and lemon drops with raspberry jam, sweet caramel, fragrant lily of the valley and soft musk.
Pipe Tobacco: A unique blend of rich tobacco leaf, cognac, cherry and vanilla. A nostalgic favorite.
Pistachio Pudding Cake: the powerful aroma of pistachio nuts, almond, honey, heliotrope, and rich, creamy vanilla custard.
Pumpkin Chai: A classic, warm chai tea fragrance with a sweet baked pumpkin accord. The fragrance is enhanced by cinnamon, ginger, clove and a nutmeg spice blend.
Pumpkin Crème Brulee: You'll find notes of creamy pumpkin puree, ground cinnamon, cardamom, Vermont maple, rum, French vanilla and caramelized sugar. Oh so delicious!
Pumpkin Crunch Cake: creamy pumpkin pie filling with rich eagle brand milk; surrounded with freshly baked yellow cake, melted butter, pecans, and hints of spice.
Pumpkin Cupcake: An inviting bakery blend of spiced pumpkin, cake, and rich buttercream frosting.
Pumpkin Milkshake (type): A rich vanilla milkshake with sweet hints of pumpkin pie spice.
Pumpkin Pecan Waffles: A warm waffle topped with pumpkin maple syrup, highlighted with sweet butter and crushed pecans. Inspired by BBW type fragrance.
Pumpkin Souffle: Warm, baked, creamy, buttery pumpkin with culinary spices of nutmeg, cinnamon, and clove sprinkled with sugary sweetness.
Pumpkin Spice Latte: A hot cup of black coffee flavored with creamy butter, clove buds and cinnamon sticks. Coconut and vanilla syrup sweeten this delicate blend. Inspired by the Starbucks® scent.
Rain and Angelica: This light, fresh scent opens with topnotes of clean citrus followed by sweet florals of jasmine and violets and rests on a base of cedar, sandalwood, musk, tonka, and light amber notes. Inspired by Jo Malone's Rain & Angelica, a scent in the London Rain collection.
Rainbow Sherbet: Creamy vanilla with notes of juicy pineapple, honeydew melon and sweet raspberry.
Raspberry Lemonade: The tart scent of lemons and the sweet scent of Raspberries make this a very unique and popular summer scent.
Raspberry Zinger: sweet raspberry and toasted coconut, middle notes of buttercream frosting, and bottom notes of freshly baked yellow sponge cake.
Raw Sugar Mandarin: Raw cane sugar adds sweetness to rich mandarin orange. The aroma of vanilla and hay add depth to the fragrance.
Red Velvet Cake: the delectable aroma of freshly baked red velvet cake. This fragrance begins with top notes of dark chocolate, strawberry syrup, and red currant; followed by middle notes of cocoa powder, buttermilk, and sugar cane; while sitting on base notes of creamy sandalwood, Tonka bean, and vanilla extract.
Redwood and Cedar: Red apples, coconut milk, and red raspberries are surrounded with cedar and redwood on a base of tonka, sheer wood and vanilla beans.
Rice Krispie Treats: Yummy, gooey, sweet and crunchy! Sweet, creamy whipped marshmallow, rice krispies, vanilla and sugar blended together to give you a heavenly sweet and awesome treat!
Rise and Shine: An eye opening blend of fresh oranges, apples, and bananas.
Rose Garden: The wonderful aroma of fresh picked roses.
Salt Water Taffy: sweet, citrusy, berry, and just a hint of sea salt.
Salted Caramel: Sweet surrender is yours with our luscious gourmand confection of burnt sugar, sea salt, and smooth vanilla caramel.
Salty Dog with Lime: This grapefruit and Vodka/gin based drink has a wonderful citrus smell with a twist of lime and a pinch of salt.
Salty Sea Air: Imagine a warm, summer ocean breeze flowing through your hair while your toes are in the sand. Notes of crisp ozone, salty sea spray, seaweed, sun-weathered driftwood, and a hint of water lily.
Sandalwood Vanilla: Autumn hay with sprinkles of African violets are followed with exotic sandalwood and sweet vanilla notes.
Sangria: a refreshing blend of grapes and berries, crisp apples, and zesty oranges covered in red wine.
Sea Minerals: A refreshing blend of ocean breeze and apple peel with cool notes of blue lotus and eucalyptus and refreshing touches of sea botanicals and sandalwood.
Sea Salt and Rice Flower: A clean, fresh, and spa-like scent. This fragrance oil has notes of creamy rice flower, citrus peel, cotton blossoms, night-blooming jasmine, azure sky ozone, grey sea salt, bamboo leaves, vanilla bean, and sheer musk. Powerful and soft, Sea Salt and Rice Flower helps promote relaxation & rejuvenation with its unique aroma.
Sea Salt Blossom: Aquatic florals and sea moss mix with dewy green notes on a base of wood and musk to create an exemplary oceanic fragrance.
Seaside Serenity: Escape to the seaside with a serene combination of juicy melon, crisp citrus, pure jasmine and aged driftwood.
Serendipity: Sweet, thick, creamy vanilla with confectioners sugar sweet cherry, sweet orange citrus and the tiniest amount of yummy fresh coconut. This is a rich and wonderfully decadent sinfully sweet delight!
Slumberland: a calm and soothing blend of lavender and baby powder that smells similar to Johnson's Bedtime Bath.
Smores: A delicious blend of sweet graham cracker combined with melted chocolate and sticky marshmallows.
Snickerdoodle: A perfect blend of gourmet sugar cookies rolled in cinnamon & sugar.
Sour Patch Kids: Aldehydic, Citrusy (Lemon , Lime and Fruity ) Top Notes
Pineapple and Berry Type Middle Notes
Sweet Vanilla , Cotton Candy and Musky Bottom Notes
Southern Iced Tea: Refreshing tall glass of freshly brewed, sweetened iced tea on a hot summer afternoon.
Spa Retreat: A clean, calming refreshing fragrance with fresh citrus top notes along with spring florals drying to a background of soothing sweet sugar cane.
Spicy Apples and Peaches: Fresh juicy orange sweetens this fruit blend. Ripe peaches and crisp green apples balance with warm clove to create orchard goodness. Lingering musky undertones blend with warm woods to support the fruity sensation.
Strawberry: The scent is almost indistinguishable from the real thing! It's like having a bowl of freshly picked, juicy, red strawberries with you everywhere you go. Perfect for blending!
Strawberries and Champagne: A fruity fragrance with wild strawberries and sparkling champagne on a base of soothing musk and sandalwood. Inspired by Victoria's Secret Strawberries & Champagne fragrance.
Strawberry Lemon Ice: A refreshing, summertime treat of bright citrus intertwined with juicy red berries and sweet caramelized sugar. Inspired by the Yankee Candle® scent.
Strawberry Rhubarb Pie: The aroma of sweet fresh strawberries mixed with sour rhubarb marmalade, with a base note of flaky pie crust. Very unique!
Strawberry White Cake: Out of this world perfection. Fresh Baked white cake combined with Fresh Strawberries make the perfect summer delight.
Sugar and Spice (type): A sweet combination of sugar crystals, creamy butter, ground cinnamon, clove buds and exotic nutmeg, Inspired by the Yankee® scent.
Sugar Cookie: Freshly baked sugar cookies with a touch of butter and sweet vanilla. An enticing and scrumptious scent.
Sugared Pralines: Rich buttercream and sweet syrup surround a warm nutty accord to create this delightful treat. A spiced blend of cinnamon and ginger balances with maple and brown sugar to create the signature of this fragrance. Warm tones of pecan intertwine with the sweet spiced blend while a top note of rich buttery cream creates a luscious gourmand accent.
Sugared Spruce: notes of stately Blue Spruce, earthen moss, warm cedar wood, and balsam wood rounded out with a base of vanilla and caramel butter with sweet berry hints, cassis, and sugar crystals.
Summer Breeze: The sweet fragrance of melon and berries in the early morning breeze.
Sun and Sand: an ozony blend of florals and citrus, combining white flowers, bergamot, orange blossoms, ylang ylang, muguet lily, with a light musk base.
Sunday Brunch: Melted Butter, Crisp Bacon, Cinnamon Spice, Ground Nutmeg, Clove Leaves, Maple Syrup, Pie Crust, Vanilla Sugar. This is SO good!
Sunflower: This enticing scent is comprised of a complex blend of fruity, floral, earthy and woody notes. A perfect, year-round floral medley inspired by nature's own fragrance collection.
Sweet Orange and Chili Pepper: A burst of fresh orange blends with citrus zest to engage the senses as this creation unfolds. Green vegetable tones at the fragrance heart are balanced with hints of fruit and herbs for the botanical signature. Shimmering musky undertones and hints of wood linger at the base of the scent.
Sweet Winterberry: This blend of fresh berries has magnetic appeal. Fruity top notes lift the green accord that surrounds the mélange of cranberry, raspberry, gooseberry and currant. Sugared musk and sweet vanilla support the fruit sensation.
Tangerine Dreams: juicy, freshly squeezed tangerines with base notes of vanilla and fresh greenery.
Tea and Cakes: The aroma of warm, rich tea steeping beside a fresh slice of cake is at the heart of this charming fragrance.
Tide: Smells like a fresh washed load of laundry with the classic Tide detergent
Tobacco and Bay Leaf: Top notes of bay leaf and fir needle mingle with cedarwood and crisp bergamot to reveal a warm tobacco base note. The fragrance has a fresh, clean aroma with well-balanced natural notes.
Twilight Woods: Sparkling citrus highlights this woody bouquet. Warm woody tones of cedar and oak balance with soft floral tones to create a fresh woodland sensation at the heart of the scent. Golden sweet amber and a hint of vanilla bean intertwine with clear musky tones at the base of the scent. Inspired by BBW type fragrance.
Unicorn Farts: Packed full of fruity berry goodness ! What does a unicorn fart smell like? Fruity notes of goji berries, blueberries, raspberry, cotton candy, creamy vanilla and sweet spun sugar.
Vanilla Bean Noel (Mrs. Claus Cookies): freshly baked sugar cookies with buttercream frosting, with fresh notes of vanilla extract.
Vanilla Buttercream Crunch: Sweet vanilla enhanced with melted butter and shredded coconut.
Vanilla Cake Pops: Cake and frosting all balled up in one. It is a party for your nose.
Vanilla Champagne: effervescent citrus notes and sweet vanilla combine to make this festive fragrance! A sparkling aldehydic accent creates a fizzy effect for the citrus top notes of lime and orange to open this blend. Hints of green floral and rum liquor notes from the fragrant heart. Clear woody tones combine with earthy accents while a base of vanilla bean surrounds the fragrance. So incredibly unique and fun!
Vanilla Lace: An exotic, enticing scent. Creamy vanilla meets spicy musk. A classic fragrance!
Vanilla Pumpkin Marshmallow: Luscious buttercream tops this roasted pumpkin blend as spiced cinnamon teases the senses with its familiar warmth. Sweet vanilla bean and creamed marshmallow finish the gourmand sensation with the perfect amount of sweetness.
Very Vanilla: A very warm and rich, buttery vanilla fragrance with a slight touch of cream..

Violet Leaf and Sweetgrass: A nighttime walk through the woods. Hands grazing the tall wild grasses. Sweet sage merges with lemongrass, fresh air, bergamot and herbs and left lingering is the haunting scent of jasmine blooming in the wild woods.
Volcano (Capri Blue Type): Tropical fruits, sugared oranges, lemons and limes, redolent with lightly exotic mountains greens.
Waffle Cone: the scent of a traditional Italian waffle cookie made with flour, eggs, sugar, butter and unique scents of vanilla and lemon zest.
Watermelon Punch: Fresh orange adds fruity pop to this classic summer fruit scent. Sugared watermelon gets natural sensations from a blend of green tones for the fragrance signature. A hint of berry finishes the blend.
Welcome Home: Toasted graham crackers, vanilla frosting, creamy caramel, and juicy raisins. This candle fragrance oils throws like mad in paraffin and soy, and can fill a room with warm love in no time.
White Cake: an awesome aroma of a fresh white cake batter. Little bit of a tangy cherry or amaretto scent just like white cake batter before it is baked up.
White Peach Hibiscus: White Peach, Kaffir Lime, Lemon Leaf, Sweet Lilac, Sheer Hibiscus.
White Peach Sangria: This ​luscious medley of juicy strawberries, succulent pineapple, and ripe peaches is sweetened with alluring jasmine and creamy coconut and finished with a dry down of musk and a touch of basil.
White Sage and Citrus: Earthy sage and bright lemon-lime notes are expertly blended in this fragrance creation. A wonderful aromatherapy scent that is both invigorating and relaxing.
White Tea and Ginger: Maybe the perfect floral fragrance. An excellent floral mix with a hint of fruit and a hint of spice. This is a must have for the spring and summer seasons!
White Tea: This will take you straight into a state of euphoric bliss. This is a true comfort scent. Notes of white tea, apricot kernels, nutmeg and ginger combine into an unexpected and delightful blend.
Wild Berry Cheesecake: A perfect dessert scent is carefully crafted with this combination of fresh berries and creamy buttery accords.
Wild Blueberries: Sweet, tart blueberries.
Wild Cherry: Blend of fresh picked wild red fruits with hints of almonds & spice on a dry down of vanilla.
Wildberry Scone: the aroma of freshly baked English scones with hints of strawberry, coconut, raspberry, and blackberries.
Winter Wonderland: A sparkling blend of cool peppermint and fiery cinnamon with notes of crisp apple and creamy nutmeg create this wonderland of holiday scent.
Woodland Foliage: Citrus accents lead to the nature inspired heart of this fragrance. Crisp pine needles, rich fir balsam, sweet berries, warm spices and patchouli are surrounded by vanilla musk for an outdoors sensation.
Zesty Clean: a strong, clean fragrance like being fresh from the shower.
Zucchini Bread: a classic sweet bread and spices of cinnamon, sugar and nutmeg which are blended with garden fresh zucchini to craft this yummy homemade treat.